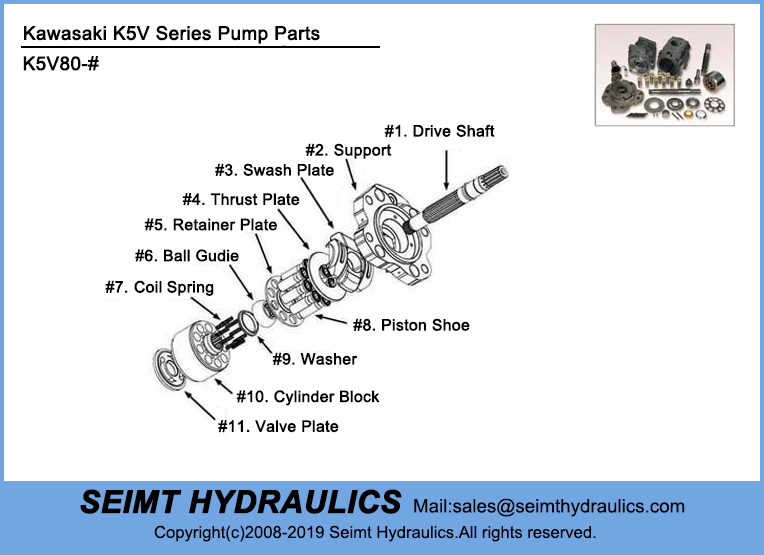 Provides Rebuild New Kawasaki K5V80 Piston Pump Rotary Group, Replacement And Spare Parts, 100% Compatible With Original Kawasaki, Good Quality Piston Pump Parts And More Cost Effective Price.
Item No.
Name & Description
QTY (pcs)
Remark
1

K5V80

DRIVE SHAFT
1
SHAFT
2

K5V80

SUPPORT
1
3

K5V80

SWASH PLATE
1
YOKE
4

K5V80

THRUST PLATE
1
SHOE PLATE
5

K5V80

RETAINER PLATE
1
SET PLATE
6

K5V80

BALL GUIDE
1
7

K5V80

COIL SPRING
1
8

K5V80

PISTON SHOE
9
PISTONS
9

K5V80

WASHER
1
10

K5V80

CYLINDER BLOCK
1
BARREL
11

K5V80

VALVE PLATE
1
PORT PLATE
SEIMT HYDRAULICS is your aftermarket solutions partner for Kawasaki replacement piston pump parts. We rebuild brand new Kawasaki K5V80 hydraulic pump parts, range from K5V80, K5V140, K5V160, K5V200. Remanufactured parts include: Rotary Group, Drive Shaft, Support, Swash Plate, Yoke, Thrust Plate, Shoe Plate, Retainer Plate, Set Plate, Ball Guide, Piston Shoe, Pistons, Cylinder Block, Barrel, Valve Plate, Port Plate and other parts.
The remanufactured Kawasaki K5V80 parts are widely used for hydraulic repair, or an excellent choice of pump parts replacement of original Kawasaki. Precision piston pump parts can totally interchange with original Kawasaki, same specification and duration as OEM, while 85% price off comparing with original Kawasaki pump parts. Our remanufactured piston pump parts are exported to USA,Europe,Saudi Arabia,Hungary,South Africa,Canada,Germany,Belgium etc. One year warranty since the export date.